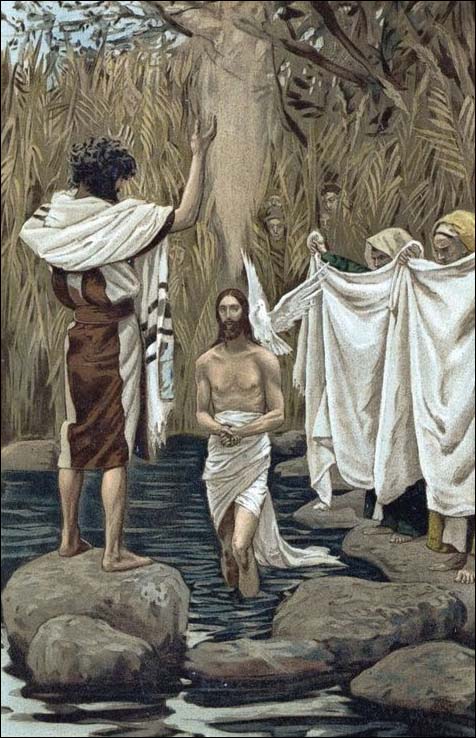 1.) OLD ROMAN LECTIONARY
(John 1:29-34)
At that time, John saw Jesus coming toward him and said, "Behold the Lamb of God who takes away the sin of the world! This is He of whom I said, 'After me comes a man who has a higher rank than I, for He was before me.' And I did not know Him, but so that He might be revealed to Israel, I came baptizing with water."

And John testified, saying, "I saw the Spirit descending like a dove from heaven, and He remained upon Him. And I did not know Him, but He who sent me to baptize with water said to me, 'He upon whom you see the Spirit descending and remaining upon Him, this is He who baptizes with the Holy Spirit.' And I have seen and have testified that this is the Son of God."
2.) NEW ROMAN LECTIONARY (YEAR B)
(Mark 1:7-11)
This is what John the Baptist proclaimed, "There comes after me One who is mightier than I, of whom I am not worthy to stoop down and untie the thong of His sandals. I baptize you with water, but He will baptize you with the Holy Spirit."

And it happened in those days that Jesus came from Nazareth of Galilee and was baptized by John in the Jordan. And immediately coming up out of the water, He saw the heavens being split apart, and the Spirit descending upon Him like a dove. And a voice came out of the heavens, "You are my Son, the Beloved; with you I am well pleased."